E-Learning Development & Training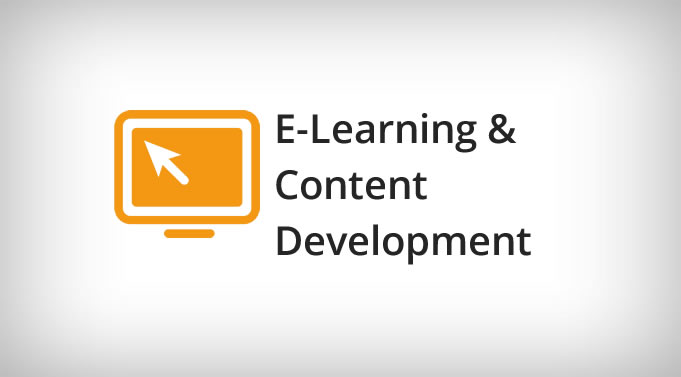 Does your organisation run frequently high-volume and repetitive training? Do the costs, time and associated frustrations make it a difficult area to plan and resource for effectively? We can be of help in solving these issues for you with courses and training options tailored to your needs.
Tell us about your project
Choose an e-learning solution or course
Let us develop e-learning modules for you or learn rapid e-learning development with one of our courses.
Why choose the E-learning method?
Your course content lends itself to e-learning for these two reasons:
Reduce overall costs and increase your return on investment (it's a one-off cost)
Get excellent metrics when integrated in your Learning Management System (LMS).
Higher upfront costs usually associated with e-learning development become short-to-long term savings because your e-learning module can be "played on-demand", thousands of times, at no extra cost.
You can choose to outsource the whole process to our company, to delegate parts of the development to us, or to have us train your team to design and develop e-learning material.
Topics you Can Convert to E-learning Today
Here are few highly representative examples of e-learning modules you may want to build for your organisation. Multiply the time and associated cost of running each programme by the number of employees who must attend and you get a good idea of how fast you will get results from your e-learning.
Legal, HR, Safety:
Health and Safety Policy
Annual Review Process
Giving Effective Feedback
Induction Programme
SafePass Training
Anti-Corruption Laws
Systems Training:
SAP Employee Self-Service / Manager Self Service (ESS/MSS)
Expenses Submission Procedure
Reporting Tools
System Login and Maintenance
Desktop Application Training:
How to Use Internal Macros
Account Management Tools
Excel Introduction
PivotTables in Excel
How We Develop Custom E-Learning Content With You
Development starts with a business conversation to determine what your objectives are, both in terms of learning objectives – what you want people to know at the end of the programme – and in terms of results and return on investment – what output and financial objectives the project stakeholders want to attain.
We then guide the design, implementation and delivery of the e-learning project to meet the targets set out at the start. We set clear project milestones, include regular status updates, in order to meet deliverables and timelines.
Do you feel limited with the tools you use to represent your organisation's information? Instead of learning to use Visio confidently, are you still fumbling with Excel charts, drawing basic flowcharts with PowerPoint shapes and AutoShapes? Or are you starting from no knowledge of diagrams at all?
Learn to use Visio which is the tool you should be using by joining one of our Visio courses.
Create Complex Diagrams In Minutes
Developing complex professional diagrams shouldn't take so long so why are you stumbling to present the information in your head in a compelling visual? Become an expert when you attend our Visio training courses, whatever your level and needs, and discover all the features which make your job a pleasure not a chore. Visio unleashes your creative side and gives you instant results. Learn the proper techniques and see the results quickly.
Take your Diagramming to a New Level
Once you have completed our Visio training you will be comfortable using the program and will be able to create expert level diagrams and plans with ease. So, whether you need to illustrate your processes for ISO certification or compliance regulations or simply would like to learn Visio as a way to communicate technical representations of ideas, structures, concepts, blueprints and a variety of other purposes our Visio training can do just that! So, if you have been looking for the best Visio training program around, look no further!
Learn Visio The Right Way
Learn to draw flow charts, process flow; represent information in swimlanes / cross-functional flow charts; map organisational charts; manipulate shapes and link data; create complex layouts; visualise floor plans and floor layouts; create complex diagrams and apply layers of information; bring real-time data together from multiple sources, link to Microsoft Excel and Microsoft SQL Server; manage processes with sub-processes; apply rules and logic validation; implement rules and validation; ensure accuracy and consistency across the organization; share dynamic diagrams over the web; icons and data bars; create SharePoint workflows.
Which Microsoft VIsio Training?
We offer three levels of Visio and customised training to suit your specific business needs.
Microsoft Visio Introduction Course for those who are completely new to Visio and want an overview of the main drawing types you can create effortlessly in Visio.
Microsoft Visio Intermediate Course for existing Visio users who can create simple drawings but need to understand the full capabilities of Visio and need to be more effective in creating large amounts of drawings quickly. 
Microsoft Visio Advanced Course for existing users with Pro versions of Visio who want to use it in multiple business environments. We talk about Visio programmability and integration with data. 
Microsoft Visio Customised for those who have specific needs and want to focus on specific drawing types, e.g. architecture, engineering drawings and diagrams.
CONTACT FRANÇOIS TO FIND OUT MORE