Advanced Power Pivot For Microsoft Excel Training Course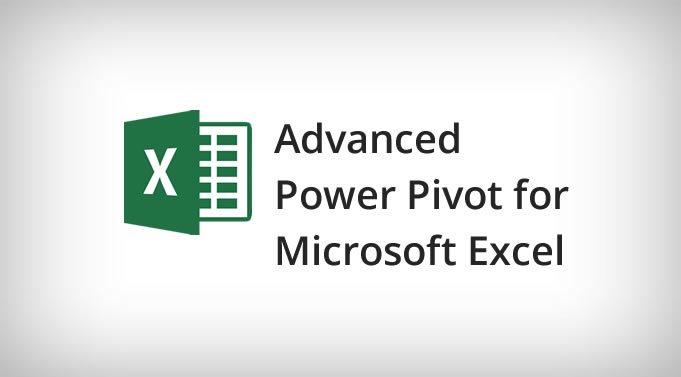 Power Pivot for Excel (2010, 2013) is a powerful tool which allows you to consolidate and mine data from multiple sources, investigate trends, create dashboards and make sense of your business data with just a few clicks in the familiar environment of Excel. Discover the power of Power Pivot for Excel with our courses
Tell us about your project
Course Duration
The standard course content can be delivered over one day or customise to meet your specific requirements. it can be delivered on-site, to groups or one-to-one. In fact, we often customise it to suit the types of data, data sources and reports our clients use rather than stick to a standard course so that you can start using everything you learn straightaway.
Course Objectives
At the end of the course, participants will be able to describe some uses of Power Pivot in Excel 2010 and the data model in Power View for Excel 2010; to import data into a Power Pivot and create relationships; to generate Power Pivot tables and charts; to customise Power Pivot table and chart appearance; to create DAX measures and calculated columns; to generate reporting dashboards and management KPIs (Key Performance Indices).
Who is this Course for
If you are looking to boost your business or advance your career, then Power Pivot Training is for you. This includes:
• Data Analysts
• Finance Professionals
• Business Managers
• Information Professionals
• Excel Users (intermediate or advanced)
• Career movers and shakers
Course Prerequisites
No previous experience required as we show you everything from the start but if you know a little about Excel formulas, one-to-many relationships in Access, SQL queries, VLOOKUP, Powerpivots Reports, you have a headstart.
What's Included
Customised course
Plenty of hands-on practice, project and exercices – you can even bring your own files for practice.
FREE Manual: we provide a training manual which covers the essential aspects of creating Powerpivots reports.
FREE Support after the course – if you're ever stuck with a measure, a PivotTable or can't remember how to build a dashboard then you can get in touch for help!
FREE pre-course assessment if required
FREE Certificate of attendance
Onsite Training & Offsite Training
Onsite
(At Your Premises)
We specialise in running customised courses at your premises so that you don't incur any travel and subsistence expenses. In addition, this means that you choose the date and times that suit you. Finally, being onsite means you can connect to your data, communicate with your team or database administrators as you try to apply what you learn during the course.
Offsite
But you don't have to. We can also organise an offsite training session where you or your team at a location convenient to you, which will also minimise disruptions to your working day.
Team Training
Our courses are designed your team because you all work towards the same goals, face similar challenges and have the same understanding of your business. We do not run courses open to the public where confidentiality issues restrict the questions you can ask or people you don't know discuss issues you don't care about.
One-to-One
If you'd rather have a one-to-one and explore the subject in depth and ask any question you need to ask, we can tailor our course to do just that.
Why Business Brains
We are passionate about working smarter – PowerPivot is the ultimate in working smarter!
With 20 years' experience in Microsoft Excel, 8 years' experience in training accountants, business managers, consultants, individuals and teams, we guarantee that we can deliver a PowerPivot for Excel training session that will change the way you look at, and use, business intelligence.
Read more about Business Brains
Course Outline
Click on the headings below for more information on course topics:
Introduction
Why use PowerPivots
PowerPivot Workbooks
The PowerPivot tab
Data sources
Relationships
Importing Data & The Data Model
Connecting to data sources
Writing a Query to Import Data
Using the Table Import Wizard
Import and Filter from Databases
Creating Relationships
Understanding relationships
Review existing relationships
Create new relationships
Building DAX Formulas / Measures
Formula basics
Calculated fields and measures
DAX Time Intelligence functions
DAX Relate (lookup) functions
DAX Calculate functions
Understanding Filters, ALL functions
Useful Queries
SELECT Queries
Logical Operators and Conditionals
AND, OR, IN, LIKE, BETWEEN, NOT
Joins
Aggregate Functions
PivotTables and PivotCharts
Creating a PivotTable
Updating the table
Changing the table structure
Formatting the PivotTable
Creating Dashboards
Formatting PivotTables and PivotCharts
KPI
Dashboards
Best Practices
Course Review
Applying what you learned
Course review
Questions and Answers
Do you feel limited with the tools you use to represent your organisation's information? Instead of learning to use Visio confidently, are you still fumbling with Excel charts, drawing basic flowcharts with PowerPoint shapes and AutoShapes? Or are you starting from no knowledge of diagrams at all?
Learn to use Visio which is the tool you should be using by joining one of our Visio courses.
Create Complex Diagrams In Minutes
Developing complex professional diagrams shouldn't take so long so why are you stumbling to present the information in your head in a compelling visual? Become an expert when you attend our Visio training courses, whatever your level and needs, and discover all the features which make your job a pleasure not a chore. Visio unleashes your creative side and gives you instant results. Learn the proper techniques and see the results quickly.
Take your Diagramming to a New Level
Once you have completed our Visio training you will be comfortable using the program and will be able to create expert level diagrams and plans with ease. So, whether you need to illustrate your processes for ISO certification or compliance regulations or simply would like to learn Visio as a way to communicate technical representations of ideas, structures, concepts, blueprints and a variety of other purposes our Visio training can do just that! So, if you have been looking for the best Visio training program around, look no further!
Learn Visio The Right Way
Learn to draw flow charts, process flow; represent information in swimlanes / cross-functional flow charts; map organisational charts; manipulate shapes and link data; create complex layouts; visualise floor plans and floor layouts; create complex diagrams and apply layers of information; bring real-time data together from multiple sources, link to Microsoft Excel and Microsoft SQL Server; manage processes with sub-processes; apply rules and logic validation; implement rules and validation; ensure accuracy and consistency across the organization; share dynamic diagrams over the web; icons and data bars; create SharePoint workflows.
Which Microsoft VIsio Training?
We offer three levels of Visio and customised training to suit your specific business needs.
Microsoft Visio Introduction Course for those who are completely new to Visio and want an overview of the main drawing types you can create effortlessly in Visio.
Microsoft Visio Intermediate Course for existing Visio users who can create simple drawings but need to understand the full capabilities of Visio and need to be more effective in creating large amounts of drawings quickly. 
Microsoft Visio Advanced Course for existing users with Pro versions of Visio who want to use it in multiple business environments. We talk about Visio programmability and integration with data. 
Microsoft Visio Customised for those who have specific needs and want to focus on specific drawing types, e.g. architecture, engineering drawings and diagrams.
CONTACT FRANÇOIS TO FIND OUT MORE