Microsoft Powerpoint Introduction Course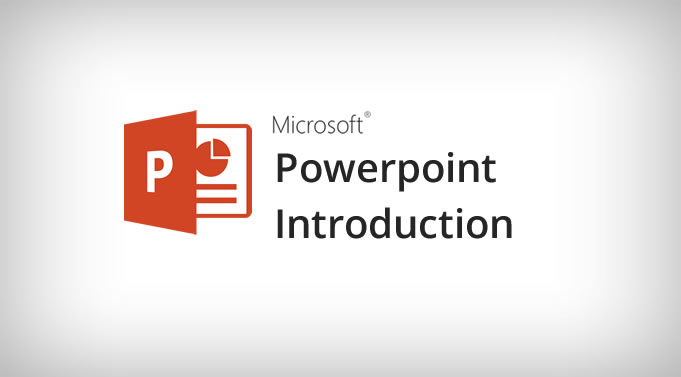 Our Powerpoint introduction course gives a solid foundation in this popular and useful program, covering the following fundamental items:
Creating and organising a presentation
Working with Audio, Video & Illustrations
Enhancing presentations
Presentation best practises
Booking for one?
Are you looking for a public course? Browse our list of public events and book today. 
Tell us about your project
Course Duration
Course can be either one day or two and a half-days duration
Course Objectives
After completing this course you will be able to use the PowerPoint menus and tools, customize the PowerPoint environment, apply custom layouts and themes to enhance a presentation, create dynamic presentations, apply advanced text and graphic effects, finalise and deliver presentations
Who is this Course for
Beginner and experienced PowerPoint users who want to improve the quality of their presentation for various purposes.
Course Prerequisites
If you have limited prior experience of working with computers, let the tutor know at time of booking. No previous experience of PowerPoint is required to attend this course.
Course Outline
Click on the headings below for more information on course topics:
Getting Started
Looking at the Screen
Creating New Presentations
Moving Around in Presentations
Managing Presentations
Creating and Formatting Slides
Organizing Slides
Working with Text
Adding Text
Using Bullets and Numbering
Formatting Text
Cutting, Copying and Pasting Text
Using Text Boxes
Using WordArt
Illustrations, Video & Audio
Using Pictures
Modifying Pictures
Inserting Shapes
Inserting Hyperlinks
Arranging Illustrations and Shapes
Inserting a Photo Album
Working with SmartArt
Modifying SmartArt Diagrams
Inserting Media Clips – Sound Files, Video Files and other Audio Visual formats
Working with Charts & Tables
Inserting Charts
Using Tables
Enhancing Presentations
Using Animation
Using Slide Transitions
Using Slide Masters
Adding Presenter Notes
Reviewing Presentations
Reviewing Presentations
Protecting a Presentation
Using Document Properties
Printing Presentation Items
Review Questions
Lesson Summary
Delivering a Presentation
Sharing a Presentation
Saving in Other Formats
Running the Slide Show
Customizing the Slide Show
Using Presentation Tools
Rehearsing a Presentation
Recording a Presentation
Using Presenter View
Do you feel limited with the tools you use to represent your organisation's information? Instead of learning to use Visio confidently, are you still fumbling with Excel charts, drawing basic flowcharts with PowerPoint shapes and AutoShapes? Or are you starting from no knowledge of diagrams at all?
Learn to use Visio which is the tool you should be using by joining one of our Visio courses.
Create Complex Diagrams In Minutes
Developing complex professional diagrams shouldn't take so long so why are you stumbling to present the information in your head in a compelling visual? Become an expert when you attend our Visio training courses, whatever your level and needs, and discover all the features which make your job a pleasure not a chore. Visio unleashes your creative side and gives you instant results. Learn the proper techniques and see the results quickly.
Take your Diagramming to a New Level
Once you have completed our Visio training you will be comfortable using the program and will be able to create expert level diagrams and plans with ease. So, whether you need to illustrate your processes for ISO certification or compliance regulations or simply would like to learn Visio as a way to communicate technical representations of ideas, structures, concepts, blueprints and a variety of other purposes our Visio training can do just that! So, if you have been looking for the best Visio training program around, look no further!
Learn Visio The Right Way
Learn to draw flow charts, process flow; represent information in swimlanes / cross-functional flow charts; map organisational charts; manipulate shapes and link data; create complex layouts; visualise floor plans and floor layouts; create complex diagrams and apply layers of information; bring real-time data together from multiple sources, link to Microsoft Excel and Microsoft SQL Server; manage processes with sub-processes; apply rules and logic validation; implement rules and validation; ensure accuracy and consistency across the organization; share dynamic diagrams over the web; icons and data bars; create SharePoint workflows.
Which Microsoft VIsio Training?
We offer three levels of Visio and customised training to suit your specific business needs.
Microsoft Visio Introduction Course for those who are completely new to Visio and want an overview of the main drawing types you can create effortlessly in Visio.
Microsoft Visio Intermediate Course for existing Visio users who can create simple drawings but need to understand the full capabilities of Visio and need to be more effective in creating large amounts of drawings quickly. 
Microsoft Visio Advanced Course for existing users with Pro versions of Visio who want to use it in multiple business environments. We talk about Visio programmability and integration with data. 
Microsoft Visio Customised for those who have specific needs and want to focus on specific drawing types, e.g. architecture, engineering drawings and diagrams.
CONTACT FRANÇOIS TO FIND OUT MORE