E-Learning Development & Training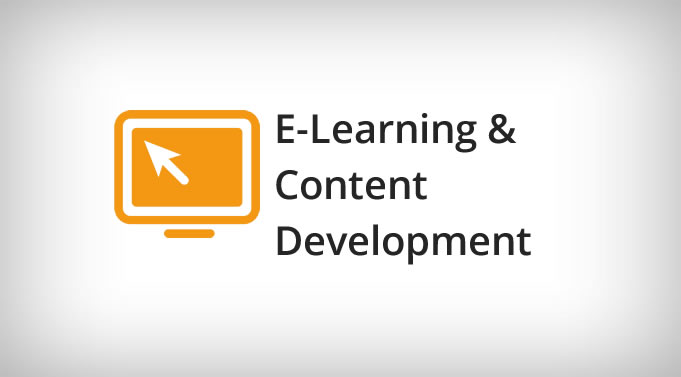 Does your organisation run frequently high-volume and repetitive training? Do the costs, time and associated frustrations make it a difficult area to plan and resource for effectively? We can be of help in solving these issues for you with courses and training options tailored to your needs.
Choose an e-learning solution or course
Let us develop e-learning modules for you or learn rapid e-learning development with one of our courses.
Why choose the E-learning method?
Your course content lends itself to e-learning for these two reasons:
Reduce overall costs and increase your return on investment (it's a one-off cost)
Get excellent metrics when integrated in your Learning Management System (LMS).
Higher upfront costs usually associated with e-learning development become short-to-long term savings because your e-learning module can be "played on-demand", thousands of times, at no extra cost.
You can choose to outsource the whole process to our company, to delegate parts of the development to us, or to have us train your team to design and develop e-learning material.
Topics you Can Convert to E-learning Today
Here are few highly representative examples of e-learning modules you may want to build for your organisation. Multiply the time and associated cost of running each programme by the number of employees who must attend and you get a good idea of how fast you will get results from your e-learning.
Legal, HR, Safety:
Health and Safety Policy
Annual Review Process
Giving Effective Feedback
Induction Programme
SafePass Training
Anti-Corruption Laws
Systems Training:
SAP Employee Self-Service / Manager Self Service (ESS/MSS)
Expenses Submission Procedure
Reporting Tools
System Login and Maintenance
Desktop Application Training:
How to Use Internal Macros
Account Management Tools
Excel Introduction
PivotTables in Excel
How We Develop Custom E-Learning Content With You
Development starts with a business conversation to determine what your objectives are, both in terms of learning objectives – what you want people to know at the end of the programme – and in terms of results and return on investment – what output and financial objectives the project stakeholders want to attain.
We then guide the design, implementation and delivery of the e-learning project to meet the targets set out at the start. We set clear project milestones, include regular status updates, in order to meet deliverables and timelines.
CONTACT FRANÇOIS TO FIND OUT MORE