Copy and Paste will only get you so far. Rather than type the same bits of text and pictures over and over again, be it your address, your terms and conditions, your disclaimer, your location map or logo, save them as AutoText entries in Word. AutoText entries work in Microsoft Word and also in Microsoft Outlook e-mail messages.
Video: Re-use text in Word documents and Outlook messages thanks to AutoText
How to save text and pictures as AutoText entries
Select the text, picture or combination of both in an existing Word document.
From the Insert menu, click AutoText and select New (press Alt+F3 if you prefer shortcuts).

Finally associate the AutoText with a snappy keyword (you are trying to save yourself time, aren't you?).

How to re-use an existing AutoText entry
Type the keyword you associated with the AutoText entry and press ENTER or F3 on the keyboard. Done. Get yourself a nice cup of tea, you earned it and now you even have the time.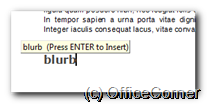 or try the long way, if you don't remember the keyword for instance
From the Insert menu, click AutoText and now find your AutoText entry under the template name (Normal, usually but as you guessed already you could even associate AutoText with other templates). Get that cuppa, now!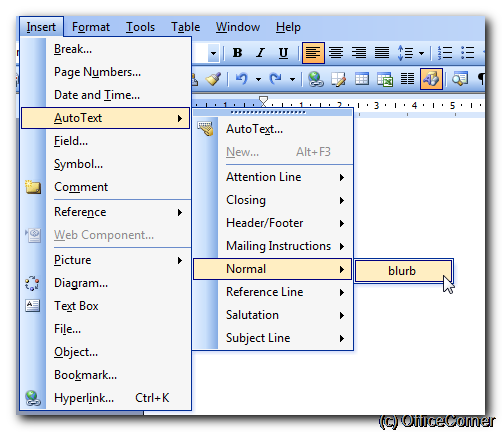 To review existing entries
If you wonder what else you have ready to be inserted left, right and centre`, quite easy:
From the Insert menu, click AutoText and then… well, AutoText again. The full list is shown in this dialog box and obviously you can delete the ones you don't use or modify the ones that need it. Straightforward or what?