When I teach PowerPoint I always insist on using very strong visuals to make a point rather than endless bullet point. Striking visuals will be more easily remembered by your audience. Without having to learn photo editing techniques, you can still produce interesting effect. In this tip, using AutoShapes with background pictures, we see how to
Turn this picture of a meat stall and a dog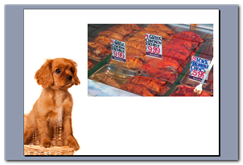 Into a salivating thought bubble for this cute puppy.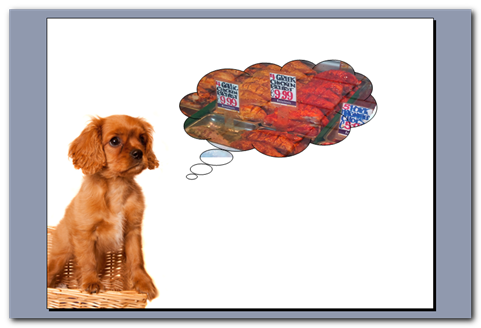 Give your pictures more interesting shapes in PowerPoint
Insert a shape of your choice from AutoShapes on the Drawing toolbar to your slide. Here I selected a thought bubble shape from Callouts.
    
Right-click the shape on the slide and select Format AutoShape. The Format AutoShape dialog opens.

Confirm and close all the dialog boxes.